Hon. Dr. Sujay Radhakrishna Vikhe Patil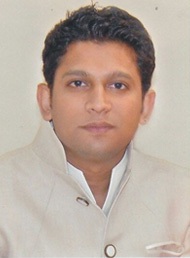 Hon. Dr Sujay Radhakrishna Vikhe Patil,Trustee and Chief Executive Officer, Dr. Vithalrao Vikhe Patil Foundation and Neurosurgeon, born on November 24th, 1982, completed his schooling from The Daly College, Indore.
He then pursued his Professional Education in Medical Sciences and completed his MBBS from K.L.E.'s Jawaharlal Nehru Medical College, Belgaum. He completed his M.S. (General Surgery) from Pravara Institute of Medical Sciences, Loni and Superspeciality in M.Ch (Neurosurgery) from D.Y.Patil Medical College, Pimpri, Pune.
As soon as he took over as "Executive Director" of  Dr.VVPF's Medical College and Hospital  in June 2011, he was instrumental in starting Post Graduate courses in 14 Disciplines of Medicine along with an increase in intake of MBBS from 100 to 150. Similarly Post graduate courses were also started in 4 disciplines of Physiotherapy.
In April 2012, he took over as "Chief Executive Officer" of Dr.VVP Foundation. Since then ultra modern & well equipped Administrative as well as Academic Buildings have come up for Engineering, IBMRD and Pharmacy. It was under his dynamic leadership that our 30 year old Engineering College was accredited with "A" Grade by NBA, New Delhi. Also college of physiotherapy,institute of business management and rural development and college of pharmacy got accredited by NAAC. An Agriculture College with a Intake capacity of 60 students was also started in June 2013 under his Guidance.
Now, with his vast experience in educational Sector, he has started CBSE School with Unique facilities of Highest Standards.